Winners and finalists I international landscape architecture contest <40 paisea Buñol castle area. Award ceremony, exhibition and publication.
Award ceremony:
The first 3 prizes will be awarded and exhibited in the 2nd meeting landscape Valencia 2011 at 18:30 on 29 September in the Aula Magna of the ETSA of Valencia (UPV), the access from the 18 pm, will be free. Will also will be show the 7 winners.
Exhibition:
During the last week of September the 20 finalist will be exhibited at the ETSA of Valencia (UPV) in the direction corridor, firts floor.
Publication of the finalist in paisea.com:
After the 2nd meeting of landscape Valencia 2011, in early October will be published on the website of paisea.com the 20 finalists.
CONSTITUTION OF THE JURY
The Jury is composed by: Joaquín Masmano, Mayor of Buñol, Enric Batlle, landscaper selected by the contestants, Vicente Silla, municipal architect of Buñol Town Council, Flora Pescador, architect, member of the paisea advisory team, Jaime García, architect, member of the paisea editorial team and Javier Rivera, architect, member of the paisea editorial team as secretary (with the right to speak but not to vote). Raúl Ramírez, architect from the Heritage Service of the Regional Cultural Department (with the right to speak but not to vote).
SELECTION OF PROPOSALS
01. el alto del camino
02. buñoz
03. trepando el castillo
04. indicios
05. retroactivar
06. por buen camino
07. enredados
08. rh_line
09. crear acceso directo
10. sense&bility
11. in/out
12. back to white
13. a la fresca
14. buñol es mes que tomat
15. hitos_conjunto
16. pasado por agua
17. sol, piedra, agua
18. gazpacho de letras
19. rosebud
20. entre elementos
FINALISTS
Alto en el camino
LAURA GARCÍA SOLER
NAWEL LAROUI
DANIELA PAGANINI
CRISTINA PUIG SEGURA
Trepando el castillo
AYELÉN SEMPERE
ALBA REVERT
Mª JESÚS VAZQUEZ
Indicios
ANDREA DEBOSIO
STEFANIA BORGINO
CLARA LUCIA ARANGO
Retroactivar
ALBERTO MEDINA
ALEXANDRA MORALES
JAIME SESÉ
ELENA BRONCANO
Por buen camino
AMELIA SISTERNES
REMEI CASTELLS
Mª CARMEN PORTALÉS
AMARANTA TORTOSA
Rh line
AMPARO HERRERA
DAVID RUIZ
Crear acceso directo
MAR AÑÓ
Mª MEZQUITA
FERNANDO USÓ
LAURA VILALTA
Sense&bility
JAVIER CIVERA
ANDRÉS MACANÁS
RUBÉN SALVADOR
A la fresca
SERGIO SANNA
ROBERTO FRANCESCHINI
Mª GIL ROMÁN
REBECA PEREZ
Hitos_conjunto
JASON PORTELL
XAVIER PERADALTA
Pasado por agua
ANA QUINTANA
ELENA SANTÍN
JAIME YNDURAIN
NURIA VILA
Sol, piedra, agua
JOAQUIN MENDEZ
ADRIÁN JABONERO
Rosebud
LUIS CARREIRA
SPECIAL MENTIONS
special mention: buñoz
ANTONIO ANGEL GARCIA MORENO
special mention: enredados
CRISTINA BAIXAULI GARCIA
ALEXIS MARTIN
MARIO ALBERTO PEREZ DE ANDRES
JAIME PROMEWONGSE PEREZ
JOSE CARLOS ROMAN SANGRADOR
special mention: buñol es mes que tomat
ALEJANDRO DEAN ALVAREZ-CASTELLANOS
MARTA DELSO GIL
FERMIN GARROTE
special mention: gazpacho de letras
CRISTIAN HERRAIZ MUÑOZ
ALEJANDRO CIRUGEDA SAN ROMAN
ALVARO ESTUÑIGA MARCOS
PRIZES
entre elementos
INES VASCONCELOS MARTINS DE BRITO
GILBERTO RODRIGUEZ
ALEKSANDRA ZAJKO
back to white
RUBA SHAHROUR SHAHROUR
CRISTINA DURAN GARCIA
SERGIO CELDRÁN BELTRÁN
in/out
VALENTINA GRESELIN
GLORIA LIVI
ANNAGIULIA PARIZZI
STEFANIA SABATINI
GIULIA MANENTI
Winners and finalists. Award ceremony and exhibition of prizes and publication.
Jury act I international landscape architecture contest <40 paisea. Buñol castle area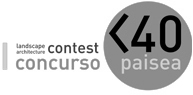 Tags: competition. result, competitions and prizes, exhibitions, paisea