X Rosa Barba International Landscape Prize. Barcelona, Spain
Open call for the 10th Rosa Barba Landscape Prize, sponsored by Fundación Banc Sabadell framed within the 10th International Biennale of Landscape Architecture under the motto: "Perfomative nature" , to be held on 26th, 28th and 29th September 2018 in Barcelona.
Broadening the Biennial scope to its international approach, also directs the call for projects to world wide landscape architecture interventions and planning created after 2013. There will be a sole prize awarded by the International Jury. The prize of 15,000€ can not be declared void under any circumstances, and be announced during the symposium.
Complete the online registration form to submit your projects before our deadline on April 30th , 2018.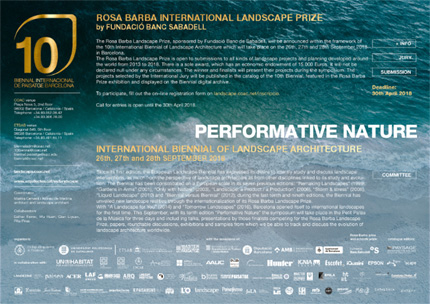 +info: HERE

Tags: biennial, competition. call, competitions and prizes, contest and prizes, news, paisaje, paisea