International masterclass Operative Territories: re-designing the landscapes of tourism. Chalkidiki, Greece
Open to students towards the end of their studies, recent graduates, and professionals, in architecture, urban design, and landscape architecture, Operative Territories is an international masterclass spanning the scales of spatial intervention from architecture, to the city, to the landscape. The masterclass operates within the challenges and opportunities facing Sithonia, in Chalkidiki, Greece, in response to contemporary forms of tourism.
Tourism, while generating economic growth and prosperity, can equally produce an ever growing gap between the particularities of places and the commodity-oriented features of 'destinations'. Considering such a tendency jeopardises not only sustainability dynamics at a local level but equally the sustainability of tourism itself, this masterclass aims to re-establish the relationships between architecture—cultural production—and the emerging alternative forms of tourism—cultural consumption. Employing the tools of landscape architecture and urban design we shall aim towards critical as much as original ideas and design strategies promoting the development of a sustainable tourism for Sithonia.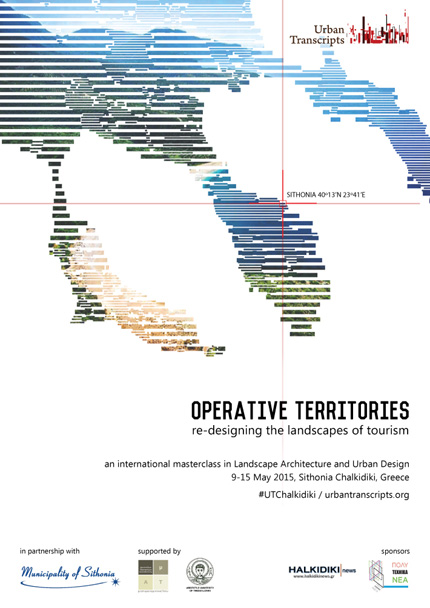 Through a 7-day programme of group work, site visits, lectures and social events, the masterclass will bring together 50 participants who will join one of 7 units each focusing on a different territory of Sithonia. Every unit is supervised by one host and one guest tutor, pairing local knowledge with global expertise.
+info: HERE