Stories about Landscape. Valencia, Spain
April 23 at 6:00 p.m. Showroom. Territorial College of Architects of Valencia.
The Master in Landscape Architecture of the UPV and the CTAV brings together a series of architects, landscape architects, environmentalists, artists, geographers, engineers, etc. to tell in a direct and dynamic way their latest interventions, actions or thoughts on landscape and try to build a map that shows different attitudes, intentions and ways of doing landscape.
Participants:
CARPE VIA
PABLO NAVARRO TENA
PLATAFORMA HORA ÉS FUTUR. NO A LA ZAL
ELISABET QUINTANA
SERVICIO DE INFRAESTRUCTURA VERDE DE LA CONSELLERÍA DE VIVIENDA, OBRAS PÚBLICAS Y VERTEBRACIÓN DEL TERRITORIO.
ENRIQUE FERNÁNDEZ-VIVANCOS
MIGUEL DEL REY
BLAS PARRA
Free entry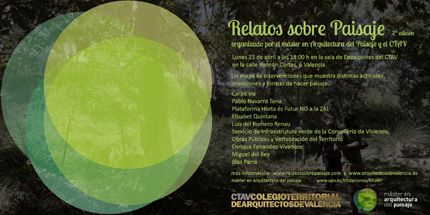 +info: HERE

Tags: landscape, Lectures, master, news, paisaje, paisea, talleres