The Second Manuel de Solà-Morales European Prize 2019
Every two years, the Manuel de Solà-Morales European Prize will recognize the best university research in the field of urbanism carried out by a student granted a PhD. Candidates can be anyone studying at a European University whose research for their doctoral thesis is grounded in urbanism. The award honours the memory of Professor of Urbanism, and architect, Manuel de Solà-Morales Rubio (1939-2012) who understood his subject as a creative and intellectual activity, committed to improving cities through what he called "persistent research".
The award is an academic initiative of the ETSAB (Barcelona School of Architecture) at the UPC (Polytechnic University of Catalonia) where he taught for more than forty years. The LUB (Barcelona Urbanism Laboratory) which he founded in 1968, organizes, oversees and facilitates the development of the award and the maximum dissemination of the works which receive it.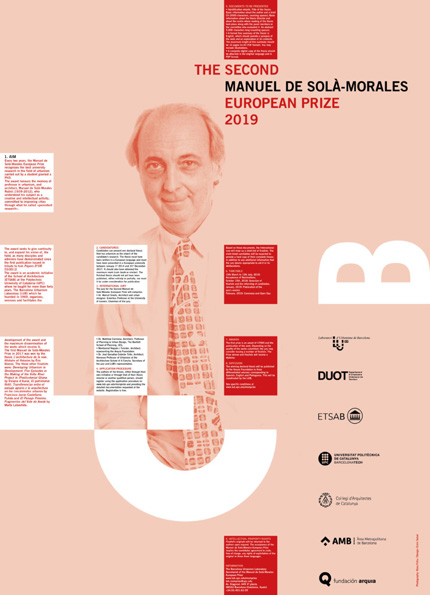 +info: HERE

Tags: competition. call, competitions and prizes, contest and prizes, news, paisea, urbanism