Urban Growth Conference. Perennial Plantings Beyond Nature. Lund, Sweden.
CITIES CONTAIN A DIVERSITY OF CHALLENGING ECOLOGICAL NICHES FOR PLANT USE.
Urban plants are asked to handle stress factors such as flooding, heat, drought and salinity, all the while maintaining an agreeable appearance and providing housing and nourishment for beneficial fauna. This three-day conference aims to inspire, educate and enable professional plant users to make urban perennial spaces adapted to these challenges of city life, combining function and aesthetics to create sustainable Urban Growth.
Urban Growth – Perennial Plantings Beyond Nature is the first international conference of its kind. It will be a forum for learning, with international speakers at the forefront of their fields sharing their knowledge. Urban Growth also aims to be a networking platform for professional plant users across the world.
The 2017 Urban Growth conference is organized by professional gardener and designer Julia Andersson and renowned plantsman Peter Korn; co-owners of Klinta Trädgård AB, together with freelance green communicator Jenny Nilsson.
The conference venue is in the historic city of Lund, in the southwest of Sweden close to the larger cities of Malmö (Sweden) and Copenhagen (Denmark).
All talks will be in English.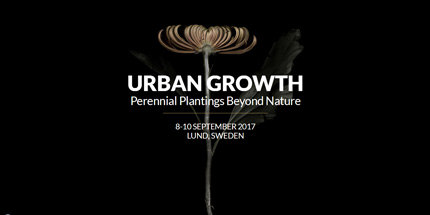 +info: HERE

Tags: conference, congress, news, paisaje, paisea