Green Air – CAM Saint Louis. USA.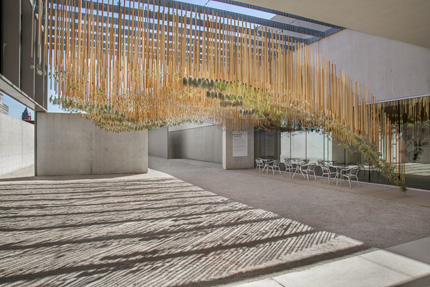 This is the second installation of a play in two acts by Nomad Studio at the Contemporary Art Museum of Saint Louis. Green Air creates a dialogue with Green Varnish in form, material, time and space.
Green Varnish was carefully de-constructed and re-purposed to create Green Air. Life works as an everlasting closed cycle of re-purposing materials. Green Air is calling attention towards all the open cycles within our life-style.
Green Varnish was the first act, a green fabric made up of thousands of plants symbolically covering the inconvenient facts of society. For the second act, the space has been modeled as a negative of the floating green carpet. What was hidden is now exposed and hovering overhead. The space has been inverted, as well as the intention.
Green Air once again occupies the 200 square meters of the courtyard. However, the spatial experience is completely different. Green Air is a space itself, an aerial garden of Tillandsias hanging from thousands of slices of re-purposed wood suspended from the courtyard's steel canopy.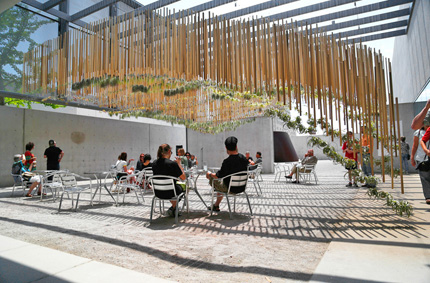 +info: HERE

Tags: exhibitions, news, paisaje, paisea