Workshop Back to life. Blanca, Spain
5th-15th September 2016 in Blanca (Murcia), Spain
Blanca, a small town huddling at the foot of Peña Negra, a volcanic black rock, is reinventing parts of its structure, helped by impulses from artists' platform AADK Spain. Part of this process is the rediscovery of the actual potentials of a shrunk city. The workshop Back to life will be a step in further developing these impulses, thought from different fields and points of view.
The workshop is a ten full days experience of common living at Centro Negra, and continuous exchange where both —participants and tutors—will think and create the transformation of a space.
20 international participants, in the creative field, will focus on the urban situation where the town meets the steep rocks of the Solan's range. The area to intervene, consists of set of small informal architectures originally served as micro ''subsistence city'', mainly used for chicken raising and husbandry. These structures are now almost all abandoned and in various stages of decay.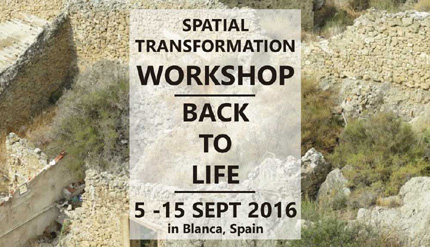 The site exploration process will develop through different laboratories and approaches: CONSTRUCTION, MAPS, LANDSCAPE, WALKS, PERFORMANCES, MOVIE MAKING, PEOPLE, VEGETATION.
In a final restitution, participants will translate the collected informations to develop proposals for interventions in the Peña Negra, the old town of Blanca.
Accomodation at the rural houses in Blanca and food catering for the 10 days of the workshop are included
Mentors: Thilo Folkerts (Berlin-100Landschaftsarchitektur) and Enrique Nieto (University of Alicante).
Tutors: seven international and multidisciplinary tutors along with the AADK Spain Team, context experts.
+info: HERE

Tags: news, paisaje, paisea, public space, talleres, workshops