Winners IFLA Design Competition 2015
1st prize: Scales of time by
Lucía de Blas Noval, Gonzalo Basulto Calvo, Ana Paola Castillo Rodríguez and Marco Orobello
University of Valladolid, Spain
Concept. The most interesting and complex space in which to investigate the relationship between architecture, landscape and time is the historic one. A space with a memory suggests a past to use in the present, and to think for the future.
Proposal. The project is located in Valladolid, Spain, in the heart of its urban fabric. One part of the city grew on one side of the Pisuerga River which has been historically one of its margins. The other part underwent a rapid development in the 1980s. The project treats a space which hasn't been taken on by the city, and that has become obsolete for the most part. Thus, the proposal emerges from careful study of the place, of the city, of the river and of the time.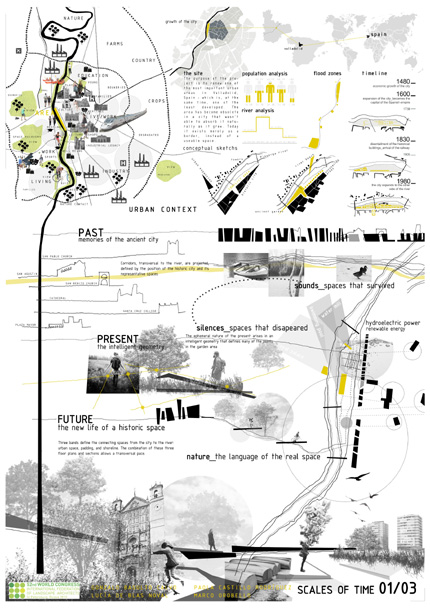 Past. The historic enclave of the shore area is treated with special sensitivity. Corridors, transversal to the river, are projected, defined by the position of the historic city and its representative spaces. The absent spaces in this project are recovered through devices that enrich the experience of the space.
Present. The ephemeral nature of the present arises in an intelligent geometry that defines many of the points in the garden area. Light beams make it visible at night.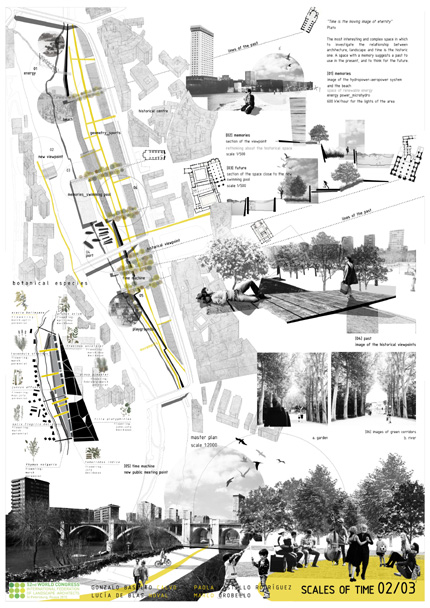 Future. Three bands define the connecting spaces from the city to the river: urban space, padding, and shoreline. The combination of these three floor plans and sections allows a transversal pace.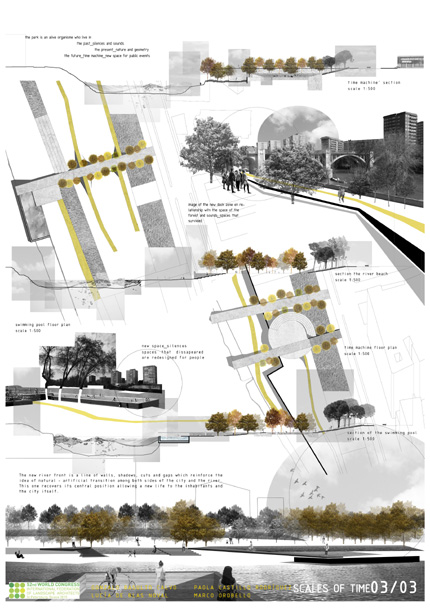 2nd prize: GROWING DAM by
Ran Wu, Nan Hu, Wei Liu, Wanyi Li and Xiangyan Wei
Beijing Forestry University, China
3rd Prize: "CARBON FOOTPRINT EDUCATION PARK IN DISUSED QUARRY SITE by
Binquan Huang
Tongji University, China
+info: competition website

Tags: competition. result, competitions and prizes, concursos y premios, contest and prizes, la competencia. resultado de, news, paisea